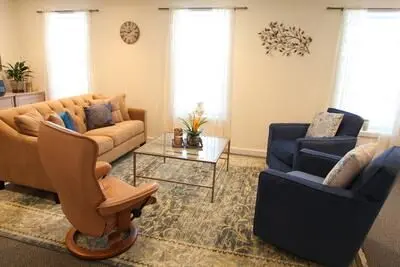 Example areas of specialization include:
Individual Therapy for Depression & Anxiety
Treatment for adjustment & other issues
Couples Counseling
Family Counseling
Parenting Support
Grief Counseling
Work and Career issues
Stress Management
Conflict Resolution
Relationship Issues
Peak Performance Enhancement
Neurofeedback

While we can't change difficult situations of the past, we can work together to better understand and resolve challenges in your life. By applying complementary therapy approaches and techniques, we will unearth long-standing behavior patterns or negative perceptions that may be holding you back from experiencing a more fulfilling and meaningful life. In a supportive atmosphere, I offer a highly personalized approach tailored to your individual needs to help you attain the personal growth you desire. I also offer Neurofeedback, also known as biofeedback for the brain, that can facilitate growth and resilience. Please click on "New Clients" below to schedule a complimentary phone or in-person "meet & greet" or contact me directly at (703) 400-0654 or [email protected] to schedule your first appointment today.